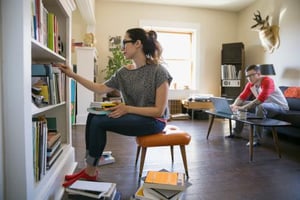 After you've decided to draw on your home equity, you might think the hard choices are over. After all, you've taken the plunge, right? Unfortunately, that's not the case. In this post, we'll walk through the process of choosing the right home equity loan for you.

What type of Home Equity Loan should I get?
There are two types of home equity loans that may sound similar but are actually very different: Home Equity Loans and Home Equity Line of Credit (HELOC). But which one is right for you?
| | | |
| --- | --- | --- |
| | Home Equity Line of Credit (HELOC) | Home Equity Loan |
| Collateral | Home | Home |
| Type of Rate | Adjustable | Fixed |
| Funds Availability | Like a credit card, small amounts of money over a period of time | Large, lump sum |
| Best for | Home renovation projects, smaller purchases that might change from month to month | Major planned purchases, expensive emergencies |
Want the flexibility of a HELOC? Right now, we are offering introductory rates as low as 2.74% APR* and NO closing costs! Apply online today!
*The Annual Percentage Rate (APR) of a HELOC is indexed to the Prime Rate as published on the money rate table in the Wall Street Journal + a margin for the life of the loan. Prime Rate as of 3/16/2020 is 3.25%. Our current lowest APR as of 3/16/2020 for credit lines over $100,000 is 3.25%, which includes + 0.00 margin and for credit lines under $100,000 is 3.75%, which includes + 0.50 margin. HELOC APRs are variable and subject to change. For credit lines of $100,000 or less, an introductory rate as low as 2.74% fixed APR applies for the first twenty-four (24) months of the loan. After the introductory period, the APR will revert back to the original rate indexed to the Prime Rate. Your actual rates may vary, depending on credit history, loan amount and term, loan to value ratio, and other factors. The maximum APR that may be imposed is 18%. Maximum loan-to-value as high as 90%, depending on creditworthiness. No closing costs for loan amounts of $100,000 and less except for legal fees, if required. A review of the credit eligibility, adequate property value , and a clear title is also needed for qualification. Other restrictions may apply. The minimum loan amount is $10,000 and the maximum loan amount is $300,000. The term is up to 240 months. Pay interest only on the amount drawn or 1% of the balance. Membership with Freedom First is a requirement for this offer with a $5 share account. Property insurance, if applicable, must be in effect on the property being secured and the said property must be in the Freedom First Credit Union membership area. The property must be owner occupied . Please consult a tax adviser for further information regarding the deductibility of interest. All credit union loan programs, rates, term and conditions are subject to change at any time without notice. Contact a Freedom First Credit Union representative at (540) 389-0244 for complete details.