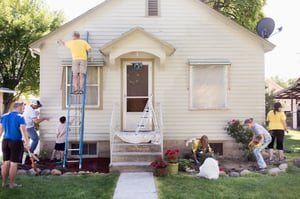 If you're like most people, your home is the largest part of your net worth, and whether you realize it or not, it's also a financial safety net. Learn how a Home Equity Line of Credit (HELOC) can put your money to good use, either to increase your wealth or to pay for the kind of large expense you've been preparing for since the day you signed your mortgage papers.


What is a Home Equity Line of Credit (HELOC)?
A home equity line of credit (HELOC) is an adjustable rate, revolving line of credit against the equity in your home. It works very much like a credit card. You are allowed to borrow up to a certain amount for the life of the loan in a time limit set by your financial institution. HELOC rates are set based on the Prime Rate (the Prime Rate is based on the federal funds rate, which is set by the Federal Reserve).
How much equity do I have in my home?
It's easy to calculate your equity. Take the current market value of your home and subtract what you still owe on your mortgage. This is your equity! Keep in mind, though, a HELOC's credit limit and rate depends on many factors, including credit worthiness.
Why should I get a HELOC?
There are many good reasons to get a HELOC! One of the best ways to use a HELOC is if you plan on using the funds to increase the value of your home, either for major repairs or upgrades. Here are a few other ways you can use a HELOC:

Interested in applying for a HELOC? Right now, we are offering introductory rates as low as 2.74% APR* and NO closing costs! Check our HELOC rates and apply today!
.
*The Annual Percentage Rate (APR) of a HELOC is indexed to the Prime Rate as published on the money rate table in the Wall Street Journal + a margin for the life of the loan. Prime Rate as of 3/16/2020 is 3.25%. Our current lowest APR as of 3/16/2020 for credit lines over $100,000 is 3.25%, which includes + 0.00 margin and for credit lines under $100,000 is 3.75%, which includes + 0.50 margin. HELOC APRs are variable and subject to change. For credit lines of $100,000 or less, an introductory rate as low as 2.74% fixed APR applies for the first twenty-four (24) months of the loan. After the introductory period, the APR will revert back to the original rate indexed to the Prime Rate. Your actual rates may vary, depending on credit history, loan amount and term, loan to value ratio, and other factors. The maximum APR that may be imposed is 18%. Maximum loan-to-value as high as 90%, depending on creditworthiness. No closing costs for loan amounts of $100,000 and less except for legal fees, if required. A review of the credit eligibility, adequate property value , and a clear title is also needed for qualification. Other restrictions may apply. The minimum loan amount is $10,000 and the maximum loan amount is $300,000. The term is up to 240 months. Pay interest only on the amount drawn or 1% of the balance. Membership with Freedom First is a requirement for this offer with a $5 share account. Property insurance, if applicable, must be in effect on the property being secured and the said property must be in the Freedom First Credit Union membership area. The property must be owner occupied . Please consult a tax adviser for further information regarding the deductibility of interest. All credit union loan programs, rates, term and conditions are subject to change at any time without notice. Contact a Freedom First Credit Union representative at (540) 389-0244 for complete details.