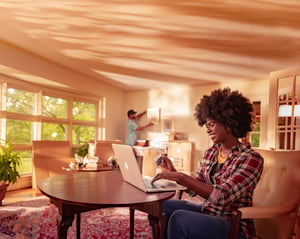 Freedom First has done the hard work to make sure our products and services are on par with the finest institutions. But what does Freedom First offer that no one else does? We've been locally headquartered and operated since 1956 — we live here, we understand our community, and we have a vested interest in our region. We're not going anywhere; in fact, we're continuing to grow, which in turn enables us to deploy capital back into our community.
That capital fuels local growth in the form of jobs, businesses, and commerce. We brought in more than $6.7 million of outside funding into our community and issued more than $87 million in commercial loans to area businesses, while funding an additional $130 million in residential mortgages. We also gave back more than ever before in volunteer hours, employee donations, and free ice cream. We cemented lasting, meaningful partnerships with the City of Roanoke, Carilion Clinic, Delta Dental of Virginia, and many others.
Beyond Banking for Good
We work diligently to give back to our community not just through our extensive grants, scholarships, sponsorships, donations, and Impact Banking services, but to all of our members in the form of cash back and dividends on their checking and rate discounts on loans. We give back to our local economy by financing rehabilitation and revitalization efforts in disinvested neighborhoods. Every local business that we help by providing necessary capital often means more local jobs. Every commercial loan funded in a target reinvestment area means more economic vitality, which will in turn encourage more businesses to follow. And the more people who bank with us, the more we're able to expand our scope of services and continue that mutually beneficial cycle of returning investments to our members.
Our Promise to You
Every dollar you invest in Freedom First stays here in your backyard, with an institution that has grown to over $650 million in assets over the past 64 years and will continue to grow in the years to come.
Because we are truly locally owned and operated, the very people we serve — of all walks of life — can directly benefit from the community capital that Freedom First is able to deploy. That's something the Freedom First team and I take a great deal of pride in, and I hope you do too.
Paul Phillips
President & CEO
Freedom First Credit Union
Read more in our 2018-2019 Community Impact Report.