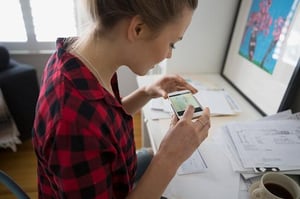 In a world where you can order almost anything through your mobile phone — from a new pair of shoes to a dining room table to tickets to a Caribbean cruise — it only makes sense that Freedom First offers mobile banking services for our members. You can now check your account balance and transfer funds between accounts, all from the comfort of your home or while on the road.


One of the most convenient features we offer through our mobile banking service is Freedom First Deposit AnywhereSM, our remote deposit capture tool. There's no need to squeeze a trip down to Freedom First into your already busy schedule. All it takes to deposit a check is a few minutes of your time and a phone that has internet access.


Remote deposits first made their appearance in the banking world back in 2003 with the passing of the Check 21 Act. This law afforded scanned images of checks identical legal standing as the original paper documents. While the law was passed with the intention of speeding up the check-clearing process between financial institutions, the concept was quickly adapted by large businesses that were handling loads of checks each month. In 2009, when smartphones were already being used by most consumers, financial institutions began offering remote check capture and mobile deposits to their members.


Today, Freedom First is proud to join the long line of financial institutions offering this service for making our members' banking a little easier and a lot more convenient.


Let's take a closer look at remote check capture and mobile deposits.


What is Deposit AnywhereSM?


Just like it sounds, remote check capture is a way for you to deposit a check into your Freedom First Checking Account from a distant location using your smartphone or another mobile device that has internet access. You can be practically anywhere in the world and make your deposit at any time of day or night.


The process is remarkably simple: You'll sign into your Freedom First mobile app and prepare your check for deposit. Tap the [Deposit Check] icon and your phone will guide you through snapping a picture of both the front and the back of the check. You'll also be asked to verify the amount on the check. Once you've made that confirmation, your check will be submitted to be deposited into your account.


It's that easy.


The benefits of Deposit AnywhereSM


It's not just another errand crossed off your list. Here are some of the benefits you'll enjoy by using Freedom First Deposit AnywhereSM:


1. Convenience.
You're no longer bound by regular business hours. As mentioned, you can now make your deposit anywhere, and at any time.


2. Speed.
Your check could clear more quickly through a mobile deposit than it would through an ATM deposit. You'll also receive confirmation that your check has been submitted via email and/or text (if you have opted in to receive SMS messages). At Freedom First, checks deposited with Deposit AnywhereSM may be available to use in as little as under 15 minutes.*


3. Accuracy.
You'll be asked to confirm the check amount in case the character-recognition software is not reading it correctly. On the small chance that an error occurs, you'll still have the physical check, which you can then deposit at a Freedom First branch. You should make it a habit to keep the physical checks for 60 days after the remote deposit for this purpose.


But is it safe?


If you're worried about sending a personal check through the airwaves, you can rest easy. Your safety is always our priority, and we take multiple precautions for ensuring your personal information is protected throughout the remote check capture process.


First, no one can sign into your Freedom First mobile account without two-factor authentication. Always make sure to use strong, unique passwords and never allow your phone to "remember" the PINs and passwords to your Freedom First account.


Second, our mobile app does not store your check images in your phone. As soon as your check has been submitted, the image will be erased from your phone and stored only in our own software. There's no need to worry about someone picking up your phone and helping themselves to your check.


Finally, as mentioned, if an error occurs with your check deposit, you'll always have the physical check to deposit if necessary.


If you haven't already done so, try Freedom First Deposit AnywhereSM. It's quick. It's easy. And it's safe. You've got nothing to lose but one more errand crossed off your to-do list. We even have a page with FAQs about this service. Try it today!
---
*Deposit limits determined by account history and other factors. Freedom First Mobile is a free service from Freedom First Credit Union, but your mobile carrier's data and text rates may apply. Deposit AnywhereSM is a free service that lets members deposit checks over the internet using smart phones, mobile devices, and tablets. Visit www.freedomfirst.com/deposit-anywhere to view the disclosures and agreements.