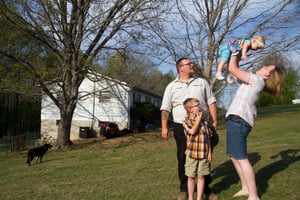 As a Community Development Financial Institution (CDFI), Freedom First is positioned to funnel secondary capital and other funding sources back into our community for even greater impact. Freedom First acquires outside funding, often from the national level, that is then brought into our region through initiatives that meet our community's needs. This means that we are not only keeping our members' money local, but we are also bringing new capital into our region for local benefit.
Investing In Our Region Through Housing Access
In 2018 and 2019, Freedom First was able to secure over $6.7 million in funding from the CDFI Fund and the Southern Equity Fund, most of which will expand home ownership opportunities in our community through our Affordable Housing Program and a partnership with Habitat for Humanity in the Roanoke Valley.
The Inclusiv Southern Equity Fund in particular offers secondary capital investments to credit unions serving communities of color across 17 southern states. "Financial exclusion has been a persistent problem in the South, particularly for communities of color," said Director of Inclusiv/Capital Cathi Kim. "The Inclusiv Southern Equity Fund is designed to promote economic mobility among low-wealth and underserved communities, preserve and build diversity in community-owned and controlled financial services, and increase the impact of scalable institutions throughout the American South."
The CDFI Fund, a source of secondary capital for financial institutions certified by the U.S. Treasury Department, also plays an important role in generating economic growth and opportunity in some of our nation's most distressed communities. Freedom First succeeded in securing this extremely competitive funding source two years in a row in order to augment our Affordable Housing Program and to deploy financial services in our region's Persistent Poverty Counties.
Read more in our 2018-2019 Community Impact Report.