---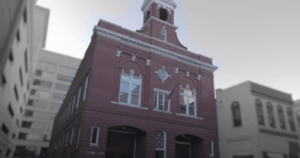 Freedom First works hard with local developers, business owners, and entrepreneurs to breathe new life into our region through commercial
redevelopment of existing properties, preserving and honoring the buildings' historical significance to the surrounding community. One such project Freedom First was excited to finance was the restoration of the
historic Fire Station #1
building in downtown Roanoke.
The 1907 station has not been in public use at all for more than a decade. The
building, which was replaced by a new station at the corner of Elm Avenue and
Franklin Road in 2007, is on the National Register of Historic Places and the Virginia
Landmarks Register. Hunter Greene, Director of Architecture at Hill Studio, said
they plan to preserve the fire poles, an ornate spiral staircase, woodwork and
other unique features of the building. Local firefighters are keen to see this beloved
landmark restored to its original beauty while serving a new purpose to bring
vitality to the City.

New Life for Historic Landmarks
Because of Freedom First's commitment to celebrating our local culture, many business owners turn to us for financing when taking on a development project involving historic preservation. One such instance was the Liberty
Trust Hotel, a 7-story 54-room boutique hotel that originally opened in 1910 as the First National Bank Building. At that time, the Liberty Trust served as the headquarters for the first bank founded in Roanoke where commercial transactions were facilitated for the Shenandoah Valley Railroad forerunner of the Norfolk & Western Railway.
Now, the Liberty Trust is listed in the National Register of Historic Places as a Virginia Historic Landmark where guests can enjoy a taste of the past while visiting our Valley region. Historic preservation projects require a great deal of care and red tape to ensure that each property's defining historic features are properly preserved or
recreated while also adhering to modern safety and building code requirements. Because of the complex nature of these developments, it can be difficult to secure financing. That's where a community partner such as Freedom First is able to step in and provide initial funding, help find gap financing partners, and work with the developer to see the project through to fruition.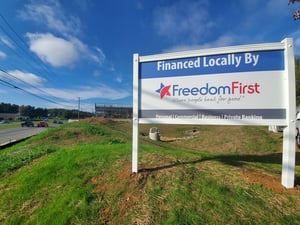 National Capital
When we discuss 'national capital,' we are referring to the money that Freedom First secures from outside sources and disseminates in our local communities. Those sources may include the U.S. government (via the Community Development Financial Institution Fund, U.S. Treasury, Department of Housing and Urban Development etc.) or large private foundations. Freedom First's role is to make a case for why the funds could be used effectively in our region to fill gaps and reach underserved communities, then execute the plan to deploy it effectively when funds have been secured.
---