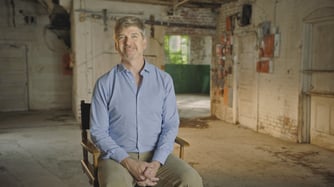 One way Freedom First gives back is by engaging in community redevelopment and rehabilitation projects, by providing capital to developers who invest in neighborhoods facing continued disinvestment. Freedom First's commercial and business banking teams are an integral part of the organization's mission to give back to the community. Every local business that we help by providing necessary capital often means more local jobs. Every commercial loan funded in a target reinvestment area means more economic vitality, which will in turn encourage more businesses to follow. It's a ripple effect.
A Conversation with Ed Walker
Redeveloper, Roanoker, and community-minded entrepreneur Ed Walker banks with Freedom First because, "where your money is matters." He explains, "I can deposit my money with a regional, national, or multinational private bank and all the benefits of my deposits, fundamentally, will go to their shareholders. Or I can deposit all of my money with a community-oriented credit union like Freedom First and all the exponential impact of my deposits go to benefit my own community — where I live and work."
Freedom First financed several of Walker's rehabilitation projects, including the Salem Motor Lofts, which transformed a long-shuttered historic building into restaurant space and luxury lodgings in the heart of downtown Salem. And this is just one of 207 businesses that we supported in 2018 and 2019, indicating a much broader effect on the region simply through commercial investment and capital deployment.
"When you invest in a credit union like Freedom First, you're investing in your community," Walker continues. "And we all want exponential impact from the money that we earn. So what is the smartest way to put the money that we earn to work? It's to deposit it — which is an investment — in a credit union like Freedom First."
Read more in our 2018-2019 Community Impact Report.