Are you getting the most out of your Business credit card? We listened to our members and added new rewards you can earn in the first three months and beyond. We also have nationally competitive rates that rival many banks* — right here in your community.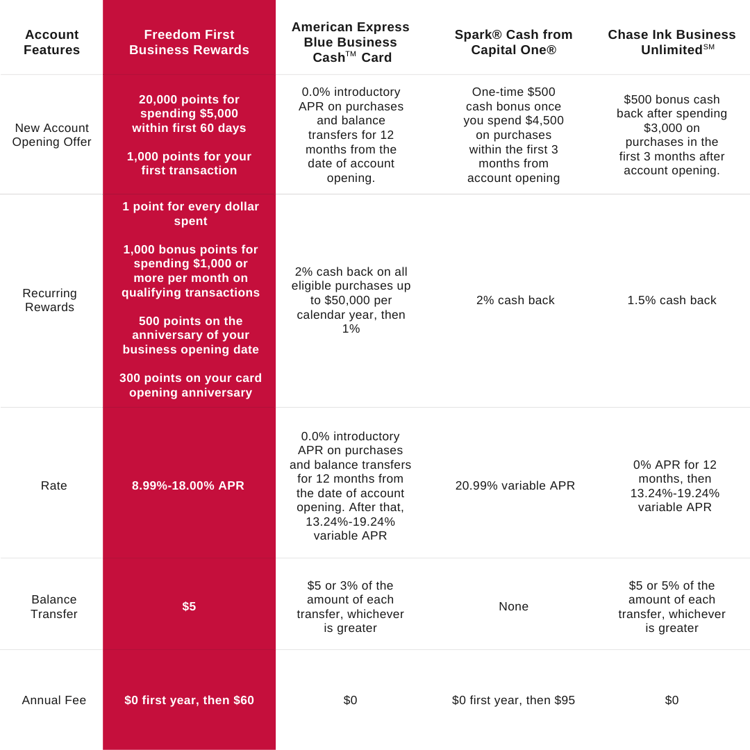 Want to open a Business Rewards card? Click the link to contact our Business Team.
*Comparison based on data compiled from company websites and consumer credit card offers as of May 1, 2020. In some cases competitors assess and/or waive fees if certain criteria are met. Perks, terms, and conditions for each competitor product may have changed since publishing this page on May 14, 2020.
Certain restrictions apply. The one-time bonuses are only available to new cardholders if and when the specified criteria to receive the bonus is met. The new account holder will receive the reward points within two statement periods. The two one-time bonuses are limited to the primary account holder and will only be credited for the first new credit card opened. This promotional offer is subject to change at any time.
APR (Annual Percentage Rate) is based on the applicant's creditworthiness and is subject to change. APR will vary with the market based on Prime Rate.