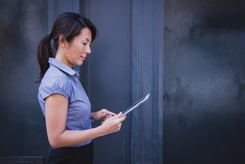 You may keep hearing that interest rates are dropping – but what does that mean, really? Which interest rates? Who decides that? How does that affect me?
It can get pretty confusing to anyone who isn't an economics major. But that's why we're here to help you understand what it all means.
---
Cuts in 2019
In 2019, the Federal Reserve has cut the target range for its benchmark interest rate twice already, and some predict that it has a high likelihood to drop again on October 30th.1
Why? Many interpret this to be a strategic move to keep economic expansion from slowing. "If the economy is slowing, the Fed can lower interest rates to make it cheaper for businesses to borrow money, invest, and create jobs. Lower interest rates also tend to make consumers more eager to borrow and spend, which helps spur the economy," according to The Balance.2 "On the other hand, if the economy is growing too fast and inflation is heating up, the Fed may raise interest rates to curtail spending and borrowing."
Variable Rate Loans
Ok, so how does this affect you? When the Federal Reserve changes the target range for its benchmark interest rate, that also changes the Bank Prime Loan Rate, more commonly known as the prime rate. The prime rate determines minimum credit card rates, Home Equity Lines of Credit rates, and other variable rate loan products at credit unions and banks. Simply put, if the prime rate increases, you could pay more interest on your credit cards or HELOC until the next change, but if it decreases, you could pay less interest until the next change.3
So, a drop in the prime rate is seen by many consumers as good if they have variable rate loans, like credit cards that carry balances or an open Home Equity Line of Credit. And with lower rates on these products, people are more likely to take advantage of the lowered rates and increase their spending.
Fixed Rate Loans
Fixed rate loans are a bit trickier. They're not tied to the prime rate; however, broader economic trends, including prime rate projections, could encourage a credit union or bank to raise or lower their fixed loan rates to maintain a healthy balance of their portfolio. What are fixed rate loans? Usually personal loans, fixed-rate home equity loans, and auto loans fall into this category.
Mortgage Rates
Mortgage rates are even trickier than fixed rate loans. Why? Mortgage rates usually fluctuate with the yield of domestic 10-year Treasury notes, which are largely affected by inflation rates. Depending on a multitude of factors, mortgage rates could change from day-to-day, so you are unlikely to know what rate you'll actually get until you lock in a rate with your lender when you put in a contract on a house.
Most people expect mortgage rates to follow the same trends as the prime rate, but that's not always the case. In fact, the most recent prime rate change on September 18, 2019 did not result in a similar cut to mortgage rates. Many regard this as a "course correction" from continually declining mortgage rates throughout 2019.4
Why? There are a few reasons, but put simply, mortgage rates tend to be for much longer terms (15-30 years, as opposed to open lines of credit or short-term loans). Also, as mentioned earlier, they change as frequently as multiple times per day, since they're tied to the bonds market.
All of that is to say, mortgage rates are much more complex than many other loan types, so check in with our mortgage rates tool to see each day's rates, or talk with one of our friendly Mortgage Loan Originators for more information.
Savings Rates
For the most part, you will also see a trickle-down effect of the Federal Reserve's decisions into your savings, Money Markets, and Share Certificates (also known as Certificates of Deposit, or CDs). Usually, if trends indicate the prime rate will continue dropping, so will savings rates. Conversely, if predictions show rising rates, you can expect your savings rates are likely to follow suit.
Deposit rates aren't directly tied to the prime rate, but they are affected by the additional economic forecast data provided by the Federal Reserve when changes are announced. So, while not always the case, typically consumers can expect their savings or deposits rates to follow the changes you see to loans.
This is why many rate-savvy consumers will lock into a competitive Share Certificate (or CD) while interest rates are high. That way, they can know that their funds will earn a fixed amount over a fixed period of time. Similarly, if you lock into a competitive Money Market rate when rates are on an upward trend, you can benefit from the higher rate but still have access to your funds.
Opportunities
If you're looking for another option to make your money work for you, you can open a Freedom Stash™ or Freedom Cash™ checking account today and start earning highly competitive dividends on your Average Daily Balance or cash back on your debit card purchases each month. You can open an account easily online, in person at a branch, or over the phone at 540-389-0244.
---
Sources:
1https://www.cmegroup.com/trading/interest-rates/countdown-to-fomc.html
2https://www.thebalance.com/current-federal-reserve-interest-rates-4770718
3https://www.investopedia.com/articles/investing/010616/impact-fed-interest-rate-hike.asp
4http://www.mortgagenewsdaily.com/consumer_rates/922003.aspx