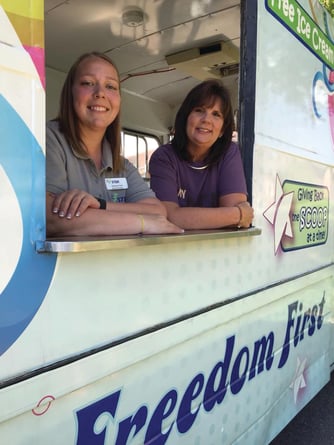 Responsible Rides is an award-winning auto buying program for low- to moderate-income earners that also includes educational classes on finances and budgeting, as well as car maintenance and care. This program works closely with a network of local nonprofit partners to reach community members: Total Action for Progress (TAP), New River Community Action, Support to Eliminate Poverty (STEP, Inc.), and local area car dealers and mechanics.
Our full-time, in-house coordinator streamlines the lending process for borrowers, coordinates vehicle maintenance classes, and travels regularly to meet with residents across our region.
The Value of Peace of Mind
Deanna G. was always wary of accumulating any debt in her name, so she had never really considered getting a loan to buy a car. But when her family's old car broke down while she was pregnant and needed to get around Franklin County, she and her husband took a closer look at the Responsible Rides program she learned about through an information session at STEP, Inc.
"Freedom First taught us about what it means to get an auto loan," she recalls. "Getting that education on what to expect, what healthy debt is, what a good car payment is, what a good APR is — it really helped us realize that it was a good option for us."
Deanna also learned how to keep her car in great condition through the vehicle maintenance classes. "We learned different things about how to maintain a car so it lasts as long as possible," she says. "In fact, we bought that car several years ago and it's still in great shape. We didn't realize how important safety and reliability were to us until we got a Responsible Rides loan. And even though we were cautious about getting a loan at first, it actually saved us money in the long run because we're not having to repair it every few weeks like with our old car."
Freedom First's personal touch with this program and others is what keeps Deanna a member. "Responsible Rides has a connection with local dealerships that makes the car buying process more personal, less intimidating, and much more affordable than going it alone. I've referred at least five different people to Freedom First because what they do is tailored to you."
Read more in our 2018-2019 Community Impact Report.