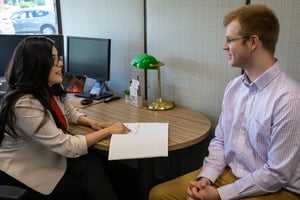 The City of Roanoke has contracted Freedom First to act as the financial counseling provider of Roanoke's Financial Empowerment Center, the first of its kind in Virginia. Financial Empowerment Centers offer professional, one-on-one financial counseling as a no-cost public service to enable residents to address their financial challenges and needs and plan for their futures.
Building Strong Financial Futures
Freedom First's counselors work with a wide range of local nonprofit partners and government agencies to ensure that Roanoke's residents have access to holistic support that will ultimately enable them to achieve financial stability.
"Financial stability is just one piece of the puzzle, but it's a crucial one," says Financial Empowerment Center Manager Keri Garnett. "When someone is able to break out of a cycle of high-interest debt, build up their credit, and stick to a budget, they can turn their whole life around. Opening access to financial education can be a truly impactful benefit to the Roanoke community. The more financially empowered people are, the more they, too, can give back and lead fulfilling lives."
The Cities for Financial Empowerment Fund defines the keys to financial empowerment as asset building, banking access, consumer financial protection, and financial education and counseling, so the FEC model is designed with these pillars as the organizational focus. In 2017, the Fund conducted a five-city pilot study that showed how FEC clients achieved three times as many savings outcomes as would have been seen before.
With such encouraging results, we are optimistic about the outcomes of our own community in the movement toward greater financial wellness and success. The Center opened officially in July 2020 and operates throughout the City. To schedule a no-cost session with one of our counselors, go to roanokefec.org.
Read more in our 2018-2019 Community Impact Report.